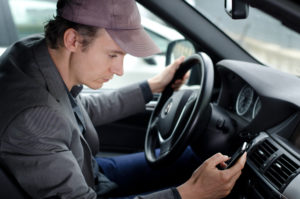 Distractions not only cost us time and attention, they cost us lives. One company believes they have stumbled upon a solution to understanding why. Read this fabulous article, originally published in www.thehustle.co, and read more about the future of attentive-driving.
A company that tracks how distracted you are while driving raises $500m from SoftBank
Cambridge Mobile Telematics announced it sealed half a billion dollars from the SoftBank Vision Fund — the investment pool with a seemingly endless pot of ca$hola.
The infusion will help expand CMT's  DriveWell platform that is already a favorite among insurers, wireless carriers, and others to track driving risk and ultimately help make the roads safer.
The core of 'behavior-based insurance'
With innovations in mobile sensing, AI, and behavioral science, CMT has become the market leader in mobile telematics. They helped shoehorn the mobile usage-based insurance phenomenon.
Founded in 2010 by Bill Powers (a serial entrepreneur), Hari Balakrishnan, and Sam Madden (both computer science professors at MIT), CMT was the first service to effectively mine sensory data from phones for auto insurance.
The ultimate backseat driver
Insurance providers use this data to measure driving performance and incentivize driving quality. In turn, this has lowered operating costs by reducing crash rates.
Results from the field are pretty solid: The driving feedback, rewards, and contests delivered via the DriveWell platform reduce phone distraction by 35% on average, and at-risk speeding and hard braking by 20%.
Today, the company works in more than  20 countries with a global customer base of several million users.
It sees when you are texting, and it knows when you're unsafe
According to a 2017 CMT  study,  an astounding 73% of drivers want auto rates to be based on how safely they drive. Among the other findings:
52% of crashes involve distracted driving
29% of phone distractions occurred at speeds exceeding 56mph
The average duration of these distractions is 135 seconds
Bottom line: While a social-credit-esque driving platform may slightly spell 'authoritarian boogie man,' road fatalities have increased 14% since 2015. So… pick your poison.