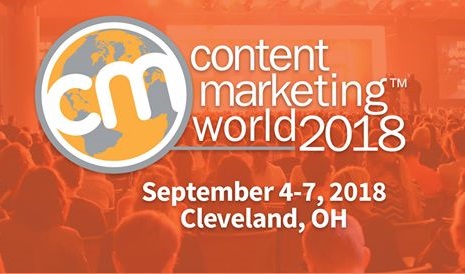 Content Marketing World is the largest content marketing event on the planet. Now in its 8th year, CMWorld will attract almost 4,000 attendees from over 50 countries to Cleveland, Ohio.
CMWorld works to achieve the mission of the Content Marketing Institute – simply to advance the practice of content marketing With 24 tracks covering every discipline in content marketing, from content creation to demand gen to analytics, ROI and measurement and everything in between.
Content Marketing World is a must-attend event for any communications, marketing or PR professional, company leader and manager, or content manager and creator. This event is different because we ensure that speakers provide tactical, case-study-like examples so attendees can leave with an "I can go back to work and do that" mentality.
The event is structured so that B2B companies, consumer-driven companies, nonprofits and associations and small businesses all get their own specialized sessions and can all learn and grow from CMWorld.
Here's what's new in 2018:
Award-winning actor, writer and producer Tina Fey will be the closing keynote
New tracks include internal/brand communication, teams & culture, AI/machine learning, personal skills and an executive track
Notable speakers include:
Jane Weedon, director of business development at Twitch
Laura Berkobin, director of digital marketing and content at Pull-A-Part
Andrew Davis, founder of Monumental Shift and CMWorld 2017's highest-rated speaker
Joe Pulizzi, founder, Content Marketing Institute
Code NEEN100 will take $100 off any in-person package. If there are groups of 4+ that register together, they'll get another 10% off. If there are groups of 10+ interested, email cmi_registration@ubm.com for help. Registration can be found at www.contentmarketingworld.com/registration
Learn more about this fabulous event and everything you and your organization can learn from this marketing experience at: