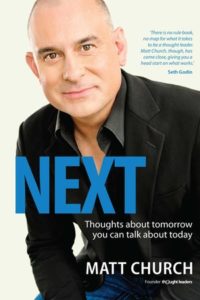 As a leader, I have the next book for you to read. The book is actually called Next. I know. It's written by one of my most favorite thought leaders in the world, and his name is Matt Church. Get your hands on a copy of this book called Next.
Now, Matt is famous for so many books that he's written, and one of my favorites still remains his Amplifiers. But in this book, he truly is one of the global thought leaders on how we can really talk about things that are going to happen tomorrow, today. 21 chapters, well written, that are filled with models, ideas, commentary, discussion ideas, Specifically, questions as a leader you can then have conversations with your team.
Next by Matt Church is one of the best books I've read. If you really want to thrive during a time of incredible disruption, if you want to truly lead your team, check out this book called Next by Matt Church. You'll be so glad you did.
If we haven't connected on social media, let's fix that. You can follow me on Twitter @neenjames. You can watch all of my adventures on Instagram where you can download hundreds of articles for free, and I also wrote a book called Attention Pays. If you haven't checked it out, go there. But please, do yourself a favor. Pick up this book called Next by Matt Church. Like I said, you'll be so glad you did.