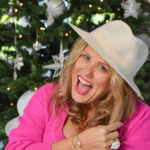 This year you might be totally exhausted and want to do your holiday shopping from the couch, I see you!  Let me make it easy for you (with Amazon links included) – so pour yourself some champagne or a cup of tea, and let's get started!
This year I am sharing my favorite things to make your day more glamorous, healthy, decadent, and luxurious.
Some items make fun hostess gifts, thoughtful gifts for your teachers and girlfriends, and some crazy indulgences you might like to buy for yourself … or tell your favorite Santa that you have been EXTRA nice this year and deserve a treat!
I saw a fun sign last week that said "On the naughty list and I regret nothing" – I laughed so hard (and so did my honey who said "true").
Maybe my list will inspire shopping for those you love (or people that are hard to buy for).
Every product I use in my home and have also given as gifts to others.
We recently set up an Amazon Store to make this super easy for you!
Something you may not know about me, I need to experience beauty daily; it brings me joy.
Fresh flowers, a flickering candle, divine-smelling hand soap in my bathroom, … whatever it is, I want it to look great, feel wonderful, and smell incredible.
Imagine my surprise when this was explained so intelligently by Ingrid Fetell Lee in her TED talk, she says "tangible things make us feel intangible joy" – if you haven't seen it, invest 13 minutes and enjoy
TED talk
Where Joy Hides and How to Find it.
Note: this is NOT a paid promotional piece (however, there is a referral codes you can use for Wallaroo hats to get 20% off, and I did set up an Amazon storefront to make your search easier… in case you are shopping for yourself).
Less than $100+
Williams Sonoma Peppermint Bark
– this is called Christmas crack in our house, and yes I have already eaten two boxes (dont' judge me) once opened I won't stop eating it! You may get addicted – be warned! It's one of my fave things about the holidays, and I LOVE it so much! And no, NO other brand compares to it … and yes, I have tried them all!
KoMatcha
– is my daily matcha. Remember, not all matcha is created equal, of all the ones I have tried this is hands down my MOST fave, it's a small women-owned business, and in our house, it's on auto-ship from Amazon.
Read their story here. 
Wallaroo Hats –
stylish, SPF sun protection (inspired by Australia and they even have a new one called the Outback that Julia Roberts wore in a movie recently, so of course I had to have that too), and when you order, get 20% off entering NEENJAMES20 at check out – I wear the
Caroline
in Ivory (hats are adjustable which is also fab) and my latest fave is the
Lady Jane
(designed with Jane Seymor)
Nest Fragrance diffuser in Grapefruit – so love this one! It makes your bathrooms smell like a spa. You might even like to treat yourself or your girlfriend or hostess to the matching hand wash and lotion.
Kushmi Tea– my fave flavor is Detox – it's grapefruit and smells delicious! I always pack this in my bag when I travel too.
The Magic of Words – this little book is a must-read for any elementary or younger little people you have in your life. The perfect gift for parents, teachers, and grandparents. Powerful messages, and gorgeous imagery.
Busy Betty is a fun book for those little people in your life who want a fun story and gorgeously illustrated book by Reese Witherspoon – so fun!
Blissy pillowslip – sleeping on silk is divine – I have one and I have them in my guest room – I tell myself it helps me sleep better (possibly not true) but it does wonders for your hair and is easier on your face.
LuLuLemon Water bottle – last year, I promoted a gallon-sized (which is ridiculous and impractical), so I replaced it with this one in pink that keeps it cold all day.
Washable slippers – we have a 'no shoes' policy in our home so these little slippers are perfect – I give them to all our guests when they visit – and they are washable! Available in a variety of colors and a fun gift for the holiday season. And we have a basket of these slippers at our front door for visitors.
Gravitas Future Pouches  – I am obsessed with this company Gravitas creating jobs for New York workers and making the world more stylish at the same time! I met Lisa at a recent event when we both keynoted for one of my fave clients, her story and tenacity were so inspiring and I bought many things from her. Read about her and the team on the website and what they did for NYC during the pandemic. These pouches are the perfect gift for you and the women (and girls) in your life to remind them of how magnificent they really are!
Ritzenhoff Champagne glasses– I collect these, and have given these to friends, and each one is designed and accompanied by a linen napkin – so divine and different! You can never have enough!
The Most Powerful Woman in the Room is You book – yep, it's one of the best I have read all year, and I am buying it for all my girlfriends – it's that good!
Wander Eye Patches – these are in my travel bag, and the rose gold ones are my true fave – treat your hostess (and yourself) with a box of these.
$100+
Liforme Gratitude Yoga Mat– yes it's a silly amount of money for a Yoga mat, I get that! BUT hear me out … this has changed my yoga practice, with alignment guides and I love this color (obviously) this is a wonderful company doing cool things.
JMethod Travel Sized Gym –
these sell out quickly and are designed by my trainer, JJ for everything you need at home, and when you get back to traveling. You might also enjoy following her on
Instagram
Tiffany Coffee Mugs and Tiffany Tea
– yes that same Tiffany, I have an older design coffee mug that I use each day and have bought for all my girlfriends, and this tea is ridiculously delish – such a treat and it makes me smile each day.
Alessi Kettle– Alessi is one of my fave designers for fun and quirky home products. This kettle I use this each morning to make my matcha and it's quick and stylish, and it is the one appliance I allow on the countertops!
Job1 – might seem strange to list a workout program, but hear me out. This is a program designed by my fave personal trainer and new Super Trainer with Beach Body – Jennifer Jacobs.
$500+
Jura Coffee
Machine – we have the white version; it's a decadent and elegant machine that makes the most delish coffee daily.
Airwrap by Dyson –
this was my Christmas gift to me last year. It's an obscene amount of money for a hair tool, BUT it creates ridiculous curls that last for three days! Took me about 3 times to actually work out how to use it, and watching lots of videos online…so there's that, but I am SO glad I treated myself. I also just worked out how to use the smoothing option, it's really cool.
Briggs & Riley Baseline Carry-on Luggage – this has been our go-to luggage for the past 20+ years of international travel – they also have a lifetime guarantee – highly recommend.
$1500+
Peloton
– if you follow me on social you know this ridiculous bike (that goes nowhere) is honestly the BEST thing I have ever bought. I have had it for many years, use it most days, and over the years it has become more than a bike. It offers rides, barre, boot camps, yoga, meditation, running, and so much more.
So what am I missing? What luxurious products do you use daily that might need to be added to my list?
Hope this inspires some fun shopping for you and those you love!