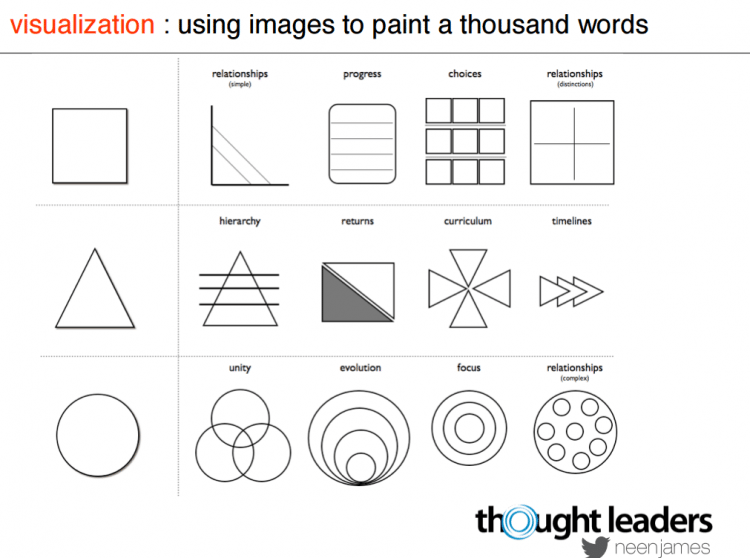 Leadership – especially in today's 24/7 world, requires strategy. Empowered mindsets. And for many?  Building the best MODELS for business, communication and forward advancement.  That's where contextual models can be a shining star for the strategic thinkers in your organization or audience.  Why? They create FOCUS and ATTENTION. (Two of my favorite things!)
Models can be extraordinary tools for presenting ideas with more clarity, positioning your message when consulting on a project, and providing a framework for your audience. A great model can take complex ideas and simplify them – helping to create consensus more quickly and with a lot less headaches. They are also ideal for capturing your unique intellectual property for you, your team and your organization.
Famous contextual models include Covey's quadrant model (the urgent versus the important) and the food industry (food pyramid).
Here are a few of trusted contextual modeling strategies you can try on for size this year to elevate your message and accelerate your communication and engagement.
Choose your shape – models are squares, circles or triangles – simple really!  When you think of the idea you want to demonstrate in a model, what shape comes to mind? If you are sharing a process, maybe that feels like a ladder (a triangle can work well here), maybe it is about relationships (circles work well, or consider even a venn diagram.).
Choose your main messages – determine the main messages you want the model to convey. Do you want to outline steps in a process, compare information or demonstrate characteristics or provide outcomes? Once you determine your contextual messages you can then determine how to share them in the model.
Choose your movement – great contextual models also include movement, especially if the message is aspirational. Can people quickly identify where they are on the model and maybe where they want to be? To show movement in a model could include x/y axis or arrows.
Models are amazing tools for capturing attention because their visual nature appeals to so many different personality types. In any given group, you've got people who are analytical people and others who are visual. The contextual model speaks to both.  It gives the information analytics need to process and make a decision, and it lays out that information in such a way that it makes sense for those who prefer to SEE a process conceptually, rather than just reading the words. These models help provide both CLARITY and CREDIBILITY for many. (That whole "seeing is believing" thing is real!)
Here's my challenge to you: Next time you are presenting key messages to your team or providing an update of your project in your organization, consider creating a contextual model to appeal to the strategic, left-brained thinkers in your audience. You may find the ATTENTION it creates giving you just the lift you need to knock it out of the park!
Looking for an example?  Check out contextual model on how attention pays everyday here.
Watch this video to understand:
How to create a contextual model;
Why a contextual model will help you communicate your message;
When a contextual model is helpful to create a visual of your goal.
You don't have time to everything, only time to do what matters. Today, change things up a bit, and see how sharing your messages through models can help you get your messages across quicker and more effectively.
Good luck! I'd love to hear your thoughts!