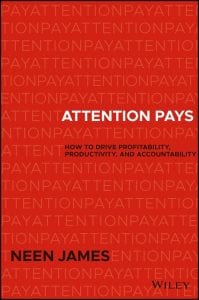 One of my media clients wanted to shift their company culture in ways that would drive bottom-line results, but also produce an environment where employees and team members WANTED to come to work each day and give it their all.
Why?
When organizations FOCUS on creating a better company culture where they pay ATTENTION to what really matters, productivity, profitability, and accountability go through the roof!
To help illustrate the strategies I wanted to help them implement I asked them to visualize their action plan as a triangle.  Here's what I shared:
Layer One:  A foundation of FOCUS. As the bottom layer, this is an important step to getting everything else right. It's all about determining the focus, or top priorities for your organization. Is it productivity? Profitability? Service? Once you have a handle on this, you can start to build the culture you want to create.
Layer Two:  A core of creativity.  When you nurture an environment where team members feel they can be seen and heard, share ideas, innovate – everyone benefits.
Layer Three:  Make the decision.  This is where everyone decides on the goal – and goes all in to make it happen.  Everyone takes ownership of their part in the process and are held responsible and accountable for delivering results.
Layer Four:  Reward people for their commitment. Keep your momentum building by keeping team members engaged in the process. Rewarding them is a great way to do that, and we're not talking financial rewards in most cases.  It can be simple things like a handwritten thank you note on their desk. Recognizing someone with a shout out in a meeting. A plaque on the wall. A leader-board with results. A Friday night cookout for the staff to say thanks to everyone for jumping in.  Have fun with it – and continue to have fun with it.  Your team will too.
Layer Five:  Develop partnerships.  Partnerships help continuously share different perspectives which leads to creatively finding solutions. Can you partner with other organizations? Other departments?  Or partner team members together so they can learn from each other and act as accountability partners.
As leaders, it's our job to help our teams grow, learn, and pay ATTENTION to those things that will drive them closer to realizing their goals and potential and raising the company standards.  Often, that means we must lead by example and model a company culture of ownership as well as the behavior and action steps that we most want to see.
As leaders, it's also vital to be crystal clear in communicating what you want your team to focus on. Break down the goals and objectives in such a way that everyone completely understands and is on the same page as you move forward.  This isn't a one-and-done process. Move forward and focus on those goals by consistent, clear communication as you go. Through email, meetings, video, goal charts – the works.
As people adapt to the shifts and get excited about realizing their goals for both reward and personal pride, you'll see your organization grow in ways you never thought possible. It all just starts with paying ATTENTION to these valuable layers of culture and leadership.
Looking for more ways to improve your focus on improving company culture?
This video contains ideas to help answer:
– How to create ownership among employees
– Ideas to recognize employees and reward their efforts
– How to foster an environment of thinking and collaboration
I'd love to hear from you on the subject! I'd also like to help you create this kind of creative culture shift in your organization so that you too can see stronger bottom line results in profitability, productivity, and accountability.
Call me today to learn how we can make that happen!