The world's coolest clients rave about Neen James!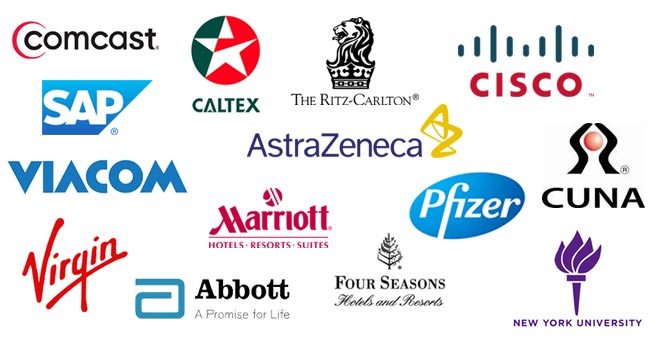 Speaking Testimonials
She laid out her system of quadrants and how to find value in your business and also how to deliver the value of your business.
I highly recommend that you engage with her…read her book and get her in your life in some way.. she helped us leverage our ideal leadership.
I cannot thank Neen enough for helping me, develop my thought leadership… Not only is she a delightful person, she is truly effective and has a gift for helping a person get past themselves, and tap into their head and their heart and truly identify what their Thought Leadership is.
I just attended a Neen James seminar over at the event that we're holding here, and I just want to say how much we really enjoyed having Neen. The information was top notch. I like that she delivered it with that awesome Australian accent, but the information is above and beyond what you're used to learning in sales school.
I just had the pleasure of seeing one of Neen's sessions. It was a fantastic session. Very informative, great energy, lots of good information and things I'm able to take back and use right away. I was really happy to participate.
I got the opportunity of hearing Neen James speak and she is AWESOME! And her message came right on time.
Neen is one of the most energizing, engaging, and crowd-pleasing keynote speakers we have had the good fortune to have at our annual conference. She not only gave great tips on leadership and productivity that our attendees could take home and use right away, but she somehow managed to create personal relationships with everyone in the audience, and developed a real understanding of their issues and challenges. She is just amazing!
Your energy backstage and onstage was a breath of fresh air and kept all of us upbeat. You quickly became part of [our] credit union family—connecting each touch point and keynote presentation to valuable nuggets attendees could take away and use in their everyday lives. You were a big hit as noted by attendees: 'Neen was fantastic!' 'Loved the enthusiasm.'

Your keynote presentation was right up there with Earvin 'Magic' Johnson's, receiving an overall rating of 100 percent and 100 percent rating on the value of the content delivered to financial professionals. We all appreciate you sharing with us the secret behind 'folding time.' I am confident every person in the room took a deep look at their own time management—personally and professionally.
Neen James is a dynamic and engaging speaker. Her style is fun yet she delivers an important message. Her methods for improving productivity can be applied instantly and our staff saw improvements immediately. Everyone in my office is quoting Neen on a daily basis. Her energy and passion for life is contagious. Meeting Alliance highly recommends Neen James for your organization's next, important meeting.
Neen is an outstanding speaker. I've had the pleasure of hearing her speak at several events over the past few years, and have been highly impressed and energized each time. In some cases, her sessions have been 'Standing Room Only' – i.e. so popular and highly attended that people have stood around the edges of the room and in doorways, just to hear her. Her style is engaging, entertaining, direct, energy-filled, witty and full of flair. She delivers content that is insightful and valuable, and she provides practical, easy-to-use tips and guidelines for implementation. Audiences routinely leave her sessions energized and buzzing about how enjoyable and helpful they found her workshop. I always look forward to attending events when she is speaking, and highly recommend Neen James.
Neen James emceed and was the closing keynote to nearly 800 executives at our convention this past Fall in LA. Outstanding! Definite WIN!
Neen James recently spoke at our annual City Year Career Day at Comcast. She's been a key part of this event since 2006 where we teach personal branding, resume and interview skills to the dynamic City Year Philadelphia Corps Members. Neen's enthusiasm, wisdom, and positive attitude are infectious. Year after year, the Corps Members rate Neen's presentations on Personal Branding and Professional Networking as the best, most useful sessions of the day. We absolutely love having Neen present and will continue to ask her to be a part of our City Year Career Day as long as we can.
After Neen's presentation on Thought Leadership for the DC Chapter of the National Speakers Association I had a number of members express that it was the most thought-provoking, clarifying, exciting and immediately useful chapter presentation yet—and we get some great speakers!

For me personally, I walked away from her session with the tools I needed to organize, formulate and sell a couple of new programs that had been swimming around in my head for a while. Neen is a powerhouse of wisdom and energy and I would highly recommend her for anyone looking for a dynamic, one-of-a-kind speaker.
We hired [Neen] to speak to our PCMA chapter at a retreat this year and I have to say that we had all positive comments from our attendees. She understands our industry and offers great enthusiasm and energy to her audience. I have to say that Neen set the tone for the rest of the day with her energy and practical suggestions for managing our jobs and lives!
Neen is a master of engaging the audience, even prior to her starting her presentation. … Not only is she incredibly entertaining, but she really drives home the point of 'how we can do twice as much in half the time'. … Neen provided practical insights on focusing on doing what matters, so we can have more fulfilling lives. We appreciated that she assisted us in setting some immediate and realistic goals on how we can improve, starting today.
You came to our group very highly recommended and we were not disappointed … After the seminar the comments from those in attendance ranged from 'best seminar I've ever attended' to 'I can't wait to go back and implement all I've learned today'. … Your enthusiastic presentation made the subject not just interesting, but fun.
Neen is a charismatic, engaging and thought-provoking speaker. She's extremely talented and at ease in front of any audience, from blue jeans to black ties. After our last engagement with her at Comcast's City Year Career Day, the audience unanimously voted her Professional Branding presentation as the best session of the event. To sum the Neen experience up in two words: Simply Fabulous.
Neen is a dynamo! She stepped up without hesitation to speak at our Million Dollar Speakers Group at the NSA National Convention. She dazzled very successful speakers in their respective spaces and made them dream of bigger numbers and success for their businesses. No easy jog. Neen brightens any event she speaker for and adds huge additional value with your book chapters and custom videos to get attendees super excited she is coming to speak. Thank you Neen for all you did to make our event a success. Bravo.
Neen provided our team great insight on productivity and time management. The session she facilitated for our staff on how to be more productive and more effective was excellent. Her ability to outline practical examples of how to better manage workload, be a better teammate/co-worker and better leverage your own individual work style is second to none. All this and she is an absolute joy to work with!
Neen is exceptional! … She is one of the most popular and personable speakers that I have worked with and I highly recommend her. If you want to partner with someone who understands your business and can provide immediate solutions, Neen is the perfect speaker for you!
Neen is a highly effective keynote speaker. She brings amazing energy into the room and really gets the audience to think about the things that are so important to success in a positive, motivating way. When I come to one of Neen's presentations, I know I'll always learn something and be entertained at the same time.
We recently had the opportunity and pleasure to have Neen entertain and educate our clients with her productivity seminar. Neen was extremely engaging, knowledgeable, insightful and motivating. Her words of wisdom were exactly what we all need in these tough stressful economic times. Thank you, Neen!
Neen James was the Women's Referral Network's keynote speaker at our September dinner. She is one of the best if not the best speaker I have ever heard. Neen was engaging and entertaining while sharing with us how to be productive. She had such a positive impact on our organization and we were on such a high after her presentation. I would highly recommend Neen.
Neen spoke to a group of our valued clients. Her content was wonderful, helpful, informative and very engaging. I greatly appreciate how she tailors the presentation to suit our audience and to reflect well on Four Seasons Hotel Philadelphia.
Neen James was a breath of fresh air and big boost of energy for our organization. She spoke to our entire group about folding time and really connected with every person in the room. We took away actionable items we could implement the next day and she left everyone energized and ready to take on the world! Thanks Neen!!
I recently asked Neen to come speak to the Colorado chapter about Thought Leadership. Over the years I have seen her business rocket and I asked her to share how she did it. The room was packed and I can tell you that the feedback coming in is nothing short of exceptional for Neen. Neen's content, delivery method and skills were above expectations. She has an amazing ability to distill complex information into a format that is actionable. The room was engaged and taking copious notes. I've brought in a lot of fellow speakers over the years and Neen proved to be by far one of the best. She has a depth of knowledge combined with a talent for communication that is unmatched. I highly recommend Neen!!
Neen James was recently our keynote speaker at one of the largest women's conferences in the area, the NCCCC Entrepreneurial & Business Women's EXPO at University of Delaware's Clayton Hall. … Neen far exceeded our expectations! If you are looking for a dynamic, engaging, funny, experienced and knowledgable outgoing keynote speaker for your next big corporate event, look no further, Neen James is your woman! I just love you and will tell EVERYONE!
I meet so many people in my line of work, and I am being entirely sincere when I tell you that Neen James is at the top of my list of speakers. Not only is her energy contagious, she takes a potentially dry topic (productivity) and makes it interesting and achievable. Neen's goal is to help clients "get on with it" so that they can "spend more time with the people and things in their lives that matter."

In addition to helping learners find and maximize their own individual "productivity style," Neen shares best practices on email, social media and meeting management, as well as workflow process improvement and leadership.

I have very high expectations, and Neen exceeded all of them. I look forward to working with her for many years to come!
You know the saying, "Good things come in small packages"? Well, Neen James is that good thing! Wow! She is so positive, so energetic, so effusive that you immediately want to learn from her and connect with her. I've had a chance to work with Neen as a presenter, and her attention to detail and preparation are tops. She will engage and wow her audience, and is a great investment!
Neen was the kickoff speaker for our conference, and she was so energetic, effective and entertaining! Her information was extremely helpful, and she delivers it with such a personable style. I was most impressed with the amount of advance preparation Neen had done to tailor her information specifically to our group. Neen James is Highly Recommended!
Neen is a fabulous speaker. She has spoken for us twice and both times she has been a sold-out hit! Her unique style is what sets her apart and her energy is extremely contagious. Neen is certainly an expert in her field(s) and would be an asset for any company to use. Thanks Neen!
Have you heard the expression "fired up and ready to go"? Neen embodies this ethos and has the amazing capacity to transfer her energy to a room full of executives. She is sharp and to the point with a wonderful sense of humor – audiences drink her spirit and take back with them pearls of wisdom applicable to the current complex world. Neen is a global visionary who can take your audience places.
Our team thoroughly enjoyed Neen and her 'Secrets of Super Productivity' session. Neen was a delight to work with throughout the process and delivered an engaging and interactive workshop to all of our employees. Neen's positive attitude and fun personality made the time fly by while she delivered useful productivity tips that can be applied to business or personal life. Our team walked away with a plethora of useful information that they immediately put into action. They were speaking about the workshop for over a week; a true testament to Neen's presentation style and her ability to engage, motivate and empower her audience. We look forward to working with Neen again!
Neen James is incredible. She's easy to work with, highly respected by her peers and clients – and delivers programs that entertain, educate and motivate her audiences.
Neen is a highly energetic and entertaining presenter. She was the speaker at our Main Line Society of Professional Women event and her unique style captivated our audience of over 220 with practical and intelligent advice. It wasn't just Neen's Australian accent that made us all sit up and listen. It was also her positive can-do approach to doing business that has made a lasting impression on us all. She offered terrific strategies that motivated us to implement right away. I can't wait to work with Neen again. She was fun, interesting, and very empowering!
Neen gave a terrific presentation to the Philadelphia Bar Association's Women in IP sub-committee on super-productivity this year. Her presentation was very inspiring and entertaining. Many attendees have told me how much they enjoyed it and found it valuable. I look forward to hearing Neen speak again soon!
Neen can immediately own any room that she walks into. Her presentation on personal productivity and work/life integration was a huge hit at our event and has garnered universal praise. If you want a dynamic speaker who will not only entertain you, but educate and enlighten you as well, look no further than Neen James. I look forward to running future events with Neen.
We recently hired Neen to speak for WWB's January meeting on productivity and she was worth every ounce of anticipation. Her advice on increasing producivity was simple yet impactful and delivered with ease and a sense of humor. I left with 3 ideas I was able to implement the next day that have already boosted my time management. Thanks Neen!
Neen James is a rare talent with an innate ability to quickly hone in on the core needs of an individual or a business and immediately help create an process improvement plan, communication strategy and plan of action that will help you expedite your growth objectives. She is a blast to work with, and sprinkles everything she does with humor, practicality and a giving spirit. Neen is an engaging speaker that captivates her audience because you has the ability to reach us at our core and moves you to action. I love her energy, enthusiasm and her Aussie accent!
My highest regard goes to Neen in demonstrating expertise, enthusiasm, ambition and overall positive demeanor in any of the workshops she has facilitated for us. She is highly energetic and genuinely facilitates her workshops with drive and passion. Neen, keep up the fabulous work!
Neen James is sharp, professional and a whiz at making people be as productive and efficient as possible. Whether she is working with you on making a speech clear, concise and effective or she is streamlining office procedures and your daily tasks, Neen gets to the point and whips things right into shape. I have never met anyone like Neen – her energy and enthusiasm is amazing. I would recommend Neen and her services to anyone looking for a corporate keynote speaker, in need of personal or professional productivity advice, etc.
Neen is a powerhouse who leaves a lasting impact! She has productivity nailed and communicates her message in a way that will make you laugh, help you learn and never do things in quite the same way again! Neen is a great lady to know. I highly recommend her.
Coaching & Consulting Testimonials
Neen has worked with and coached various leaders within our company and the results have been incredible! These leaders have made significant changes in how they communicate and lead their teams. Neen has a unique way of providing candid feedback, while showing great compassion. Her partnership is invaluable to our organization.
Working with Neen James was a powerful and insightful experience. She revealed new possibilities for my business and helped me increase my monthly revenue by 20%. She knows this business and she takes the time to understand her individual client needs. She's the best!
Neen in one word… AWESOME… Since starting to work with Neen last year as my coach, she has helped me develop into the Vice President role… She has guided me to bring out my strategic and more than usual detail oriented self and has helped me with the idea to lessen the reigns of control to get more done. Working with her has definitely taken me to the next level.
Working with Neen has challenged my thinking and changed my mindset. She had a way of capturing the process I've used for years, making it concrete. … I have a new proprietary model, a distinct way of thinking and great energy around my business that will literally take it to the next level. Words cannot begin to express my gratitude. I highly recommend the consulting process I experienced with Neen James.
Neen has business-building strategies that are customized to your specific needs. She is a storehouse of ideas and delivers value consistently!
Neen is by far one of the most well respected experts in Productivity. … Working with Neen not only increased my productivity, but my company revenue. More importantly, she provided me with a Plan of Action to keep me on track as Simply B organized continues to grow.

Whether you are a small business owner or a manager in corporate America, everyone can benefit from her knowledge. I highly recommend Neen James to anyone looking to increase their productivity and success.
Wow. That was my response to Neen's guidance. I walked away with so much practical information that, very quickly, has allowed me to re-tool how I market my business and use my time. And I am already reaping the rewards.
Neen is one of best in her field I have ever worked with. Very personable and creative. Neen is able to give ideas and solutions that can be implemented very easily [to] bring almost immediate change to one's business.
I had the opportunity to work with Neen this year, and I could not have had a better experience. She is truly devoted to her clients. Her creativity and constant energy provide the momentum to propel anyone forward to reach their goals. I am blessed to know her.
Neen is a tremendous resource and a great "secret weapon" for women striving to advance. Neen can help you get organized, energized and motivated to either get your career back on track or refocused on the goals most important to you. Any woman who is looking to take her career to the next level should not delay and call Neen right away!
Neen is an AMAZING coach and provided me with insight and guidance on how to deliver a 'Truly Memorable' presentation. The results have been fantastic as indicated by the feedback that I receive from my peers. I highly recommend Neen for her expertise and wisdom.
It was a great opportunity to have worked with Neen James. She helps you realize your potential through focusing on what is common knowledge but not common practice in the workplace. By allowing you to focus on yourself, Neen's workshops allow for individuals to create and execute a process that helps to meet personal and professional goals. I would recommend Neen to all individuals and organizations who are looking to empower themselves to gain back time and build momentum to reach unrealized potential.
Neen is an amazing productivity coach, presenter and author. Her simple, effective and efficient techniques have made a lasting impact on me, my team and colleagues. She is a valuable resource who consistently offers thoughtful and practical solutions. I'd highly recommend leveraging Neen's talents to take you and/or your team's game to the next level!
If you are a business professional of any kind looking to improve interpersonal skills and dramatically increase your productivity, you need to work with Neen. Her insight is vast and invaluable and her energy is infectious!
Neen is a phenomenal communicator. Her engaging, interactive style makes her presentations both interesting and highly effective. Neen's productivity tips and insightful strategies help those who learn from her to achieve positive results quickly. It is easy to see why Neen is so highly respected in her field. Whether one-on-one or for their teams, business leaders would be wise to seek out Neen's expertise!
Neen has been a fantastic mentor. I've only been working with her for a few months, and I am already seeing results in my day-to-day work life and overall productivity. I'm growing and learning with each meeting. Neen helps me work on slight tweaks and adjustments to my daily behavior to improve productivity and moreover, work-life balance. Neen's authentic enthusiasm, energy and persistence has helped me become a better version of myself.
Neen has proven to be in a class of her own. Every employee that has had the opportunity to participate in one of Neen's sessions has raved about them. More importantly, we see the effect as our employees now practice daily what Neen has shown them.
Neen James is one of the most brilliant people that I know. She is a big picture CEO in her thinking but also understands how to execute in order to drive results. I am always grateful to be in her presence because she stretches my thinking and helps me see the new in the old and old in the new. Don't pay Neen to work with you…invest in her brilliance. She is worth every dollar, pound, and yen.
If there is a person to recommend….it is Neen James!!!! Neen is a highly enthusiastic individual who inspires people. Neen has the gift of delivering a message quickly, to the point which makes her recommendations very easy to implement. If you are looking to become more productive and learn how to brand yourself, Neen James is the person to speak to.
Discover for yourself what all the buzz is about! Contact Neen and her team at
(215) 230-0835

to invite her to speak at your event, or for one-on-one leadership coaching.