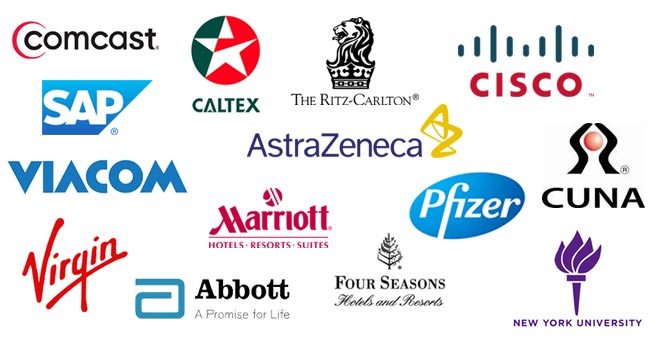 She laid out her system of quadrants and how to find value in your business and also how to deliver the value of your business.
I highly recommend that you engage with her...read her book and get her in your life in some way.. she helped us leverage our ideal leadership.
I cannot thank Neen enough for helping me, develop my thought leadership... Not only is she a delightful person, she is truly effective and has a gift for helping a person get past themselves, and tap into their head and their heart and truly identify what their Thought Leadership is.
I just attended a Neen James seminar over at the event that we're holding here, and I just want to say how much we really enjoyed having Neen. The information was top notch. I like that she delivered it with that awesome Australian accent, but the information is above and beyond what you're used to learning in sales school.
I just had the pleasure of seeing one of Neen's sessions. It was a fantastic session. Very informative, great energy, lots of good information and things I'm able to take back and use right away. I was really happy to participate.
I got the opportunity of hearing Neen James speak and she is AWESOME! And her message came right on time.
Neen is one of the most energizing, engaging, and crowd-pleasing keynote speakers we have had the good fortune to have at our annual conference. She not only gave great tips on leadership and productivity that our attendees could take home and use right away, but she somehow managed to create personal relationships with everyone in the audience, and developed a real understanding of their issues and challenges. She is just amazing!
Your energy backstage and onstage was a breath of fresh air and kept all of us upbeat. You quickly became part of [our] credit union family—connecting each touch point and keynote presentation to valuable nuggets attendees could take away and use in their everyday lives. You were a big hit as noted by attendees: 'Neen was fantastic!' 'Loved the enthusiasm.' Your keynote presentation was right up there with Earvin 'Magic' Johnson's, receiving an overall rating of 100 percent and 100 percent rating on the value of the content delivered to financial professionals. We all appreciate you sharing with us the secret behind 'folding time.' I am confident every person in the room took a deep look at their own time management—personally and professionally.
Neen James is a dynamic and engaging speaker. Her style is fun yet she delivers an important message. Her methods for improving productivity can be applied instantly and our staff saw improvements immediately. Everyone in my office is quoting Neen on a daily basis. Her energy and passion for life is contagious. Meeting Alliance highly recommends Neen James for your organization's next, important meeting.
Neen is an outstanding speaker. I've had the pleasure of hearing her speak at several events over the past few years, and have been highly impressed and energized each time. In some cases, her sessions have been 'Standing Room Only' – i.e. so popular and highly attended that people have stood around the edges of the room and in doorways, just to hear her. Her style is engaging, entertaining, direct, energy-filled, witty and full of flair. She delivers content that is insightful and valuable, and she provides practical, easy-to-use tips and guidelines for implementation. Audiences routinely leave her sessions energized and buzzing about how enjoyable and helpful they found her workshop. I always look forward to attending events when she is speaking, and highly recommend Neen James.
Outstanding! Definite WIN!
Neen James recently spoke at our annual City Year Career Day at Comcast. She's been a key part of this event since 2006 where we teach personal branding, resume and interview skills to the dynamic City Year Philadelphia Corps Members. Neen's enthusiasm, wisdom, and positive attitude are infectious. Year after year, the Corps Members rate Neen's presentations on Personal Branding and Professional Networking as the best, most useful sessions of the day. We absolutely love having Neen present and will continue to ask her to be a part of our City Year Career Day as long as we can.
After Neen's presentation on Thought Leadership for the DC Chapter of the National Speakers Association I had a number of members express that it was the most thought-provoking, clarifying, exciting and immediately useful chapter presentation yet—and we get some great speakers! For me personally, I walked away from her session with the tools I needed to organize, formulate and sell a couple of new programs that had been swimming around in my head for a while. Neen is a powerhouse of wisdom and energy and I would highly recommend her for anyone looking for a dynamic, one-of-a-kind speaker.
We hired [Neen] to speak to our PCMA chapter at a retreat this year and I have to say that we had all positive comments from our attendees. She understands our industry and offers great enthusiasm and energy to her audience. I have to say that Neen set the tone for the rest of the day with her energy and practical suggestions for managing our jobs and lives!
Neen is a master of engaging the audience, even prior to her starting her presentation. ... Not only is she incredibly entertaining, but she really drives home the point of 'how we can do twice as much in half the time'. ... Neen provided practical insights on focusing on doing what matters, so we can have more fulfilling lives. We appreciated that she assisted us in setting some immediate and realistic goals on how we can improve, starting today.
You came to our group very highly recommended and we were not disappointed ... After the seminar the comments from those in attendance ranged from 'best seminar I've ever attended' to 'I can't wait to go back and implement all I've learned today'. ... Your enthusiastic presentation made the subject not just interesting, but fun.
Contact Information
P.O. Box 1764
Doylestown, PA 18901