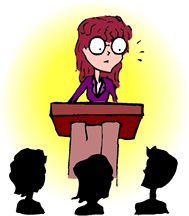 Do you ever get nervous before you speak?
Do you get butterflies when you are preparing to present?
Do you worry about your audience's reactions when you are speaking?
If you answered yes to any of these questions maybe your center of thought is wrong! Many years ago I heard Matt Church, founder of Thought Leaders share a great model explaining the reason people get nervous is because their center of thought was wrong, they are focused on the wrong thing.  This had a huge impact on me.
Matt went on to explain that often people think all about themselves, or maybe focus on their audience when the real way to present without nervous energy is to simply be in conversation with your audience.
If you get nervous before you speak consider the following ideas:
It's not about you … your audience is so glad it's you up there and not them!
It's not about them – your audience wants you to do well, they want to be engaged and interact with you.
so if it's not about you and it's not about them… it's simply a conversation, an authentic conversation.
Check out this video
for more ideas.
Can you turn your presentations into conversations with your audience? Can you engage people before you present? Can you increase your interaction?
The best presenters I know stand in service of their audience and create great conversations… now that's productive!
About Neen James
Neen James, MBA CSP, is the President/CEO of Neen James Communications, LLC. An international productivity expert and native born Aussie, Neen delivers engaging keynotes that have educated, and entertained audiences with real-world strategies that apply in all roles, whether at work or in life. Neen also provides one-on-one consulting and mentoring to women on a variety of business issues and topics. To find out more about Neen, visit her at http://www.neenjames.com/.